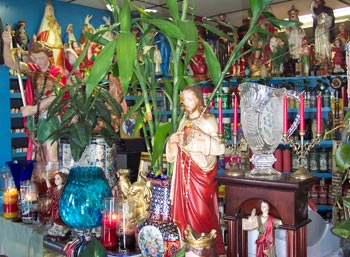 Went through North Philadelphia and the entire voyage turned magic. Accompanied by photographer Caitlin Welge, we began our trip by seeking out an abandoned corner store in North Philly with the following inscription across the windows:
OPEN 24 HRS 7 DAYS
ALL U NEED
ALL U WANT
ALL THE TIME
After some sleuthing, we found the store at 30th and Lehigh across from a cemetery/playground. Caitlin took a lot of great shots of the now closed shop. Here's a link to her flickr page with images from today.
From there, Caitlin wanted to take pictures at Somerset and Kensington Aves., a corner with the reputation for having the most drug traffic in the city. We decided to get there via El Barrio: north 5th street. At the corner of 5th and Lehigh, a man was selling some of the most outlandish Valentine's Day gifts, like massive teddy bears, handcuffs wrapped in red fur, and three dimensional greeting cards that flashed and played tunes. We did some good shopping.
Up fifth street was a botanica. Inside, a thousand wonders. Dominator bath liquid. Dried tarantulas. Beads of every color and meaning. Thousands of packets, bottles and jars for all the things that could afflict a person. After some consideration, I asked for something that would keep bad men away. "There's nothing to keep a man away, but we have lots of things to attract men," said the shopkeeper. I settled on Afrodita, a magical oil with almost no scent, rendering it undetectable. It's said to pack a hot wallop. In the same case was a product called Siete Machos, or Seven Men, with graphics to make even the party ambassador blush.
We headed over to the El, and then located Somerset and Kensington. It took about 30 seconds for someone to walk past us offering works, i.e., needles for shooting up. We came upon a man selling matresses. He had spray painted eye catching phrases across the plastic sheaths of the matresses; for example, "Take me home today."
We told him that we were artists looking to take pictures of the neighborhood. He allowed Caitlin to get shots of his wares but drew a boundary at having his own face captured. He wanted to make sure we were not cops. He said that the most action was in front of the Quik Shop, several blocks down.
We decided to drive past and see if indeed it was a hotbed of criminal action. Our expectations were exceeded. Right there, we witnessed a struggle between a cop and a drug dealer. The officer slammed the kid up against a chain link fence and proceeded to handcuff him. That's all we saw as we passed at 10 miles an hour.  And we kept driving.